Private Tour

|

1.5-days wildlife tour in Khao Yai
Why?
Our 1.5-day Khao Yai tour is another alternative for a short trip, perfect if you wish to start your adventure in the afternoon on the first day of your arrival.
What?
The 1.5 day tour includes wildlife watching, hiking in the jungle, morning and late afternoon safari drives, visiting one of major waterfalls, visiting a viewpoint, swimming in clear spring and watching millions of bats leaving a cave.
Itinerary
Our trips start and end at your hotel or other locations we agreed on. Because the first evening involves watching bats leaving a cave, the half day activity can't be done on the second day.
Our itineraries normally gets turned upside down; it is not always possible to plan exactly, the following should be considered as an example itinerary:
Day 1 - From 3:30 p.m.
We start the first day right outside the national park boundaries by swimming in a clear spring and later during the sunset watch millions of migrating bats flow out from a cave.
Day 2
We will start the morning by doing a driving safari along the road, looking for gibbons, hornbills and other wildlife. Afterwards we continue by foot into the jungle.
After the lunch break we'll visit Haew Suwat Waterfall, better known from Leonardio Di Caprio's "The Beach" movie and possibly visit a viewpoint with a wide vista over the national park. Late in the afternoon we will end the tour by driving safari in search of elephants.
In the early evening you will be returned to Pak Chong or to your hotel.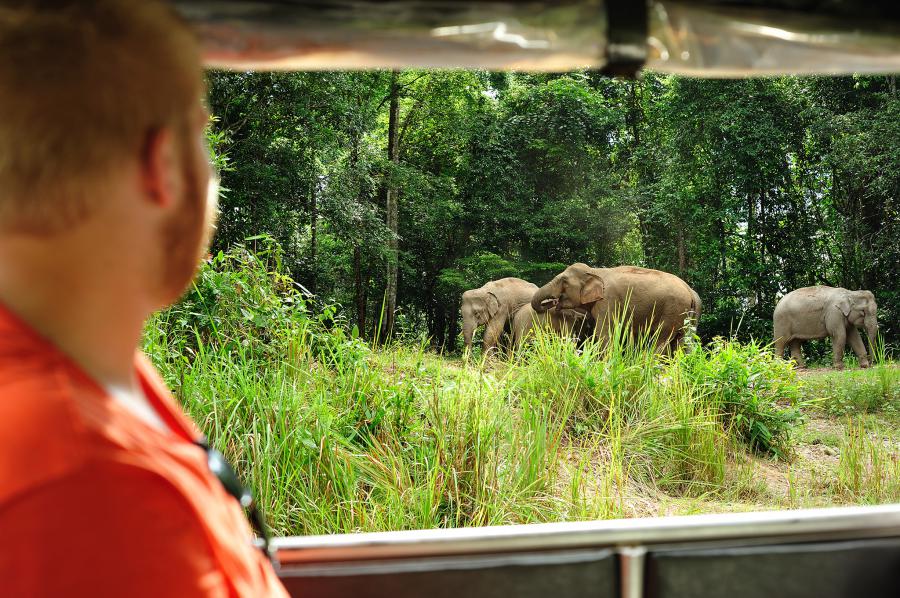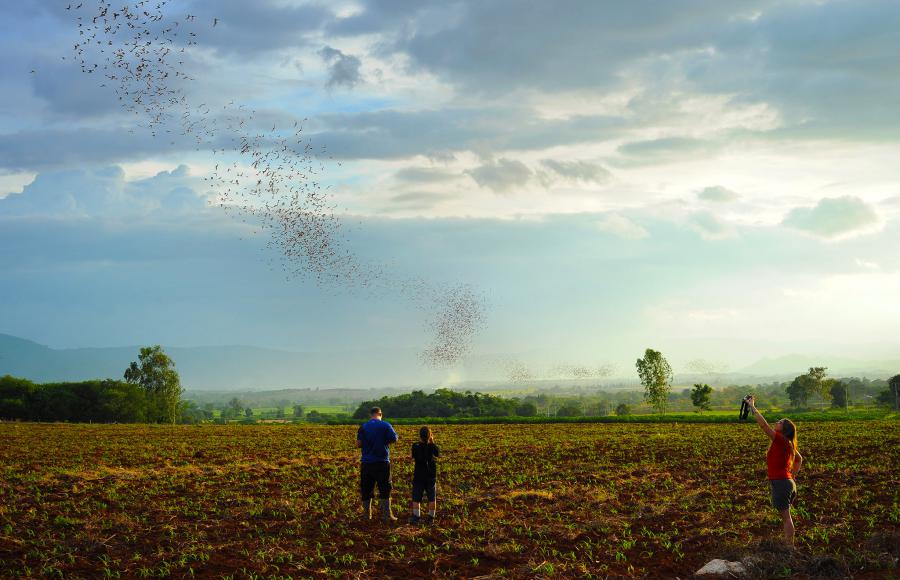 Where & When?
Khao Yai National Park is around 2.5 hours from Bangkok, easily accessible with public transportation with minivans being the fastest way. Our private guides will meet you in your hotel in Pak Chong -which is the nearest city- or anywhere between Pak Chong and Khao Yai National Park.
The park is open and accessible all year round but for night safaris we strongly recommend to avoid week-ends and public holidays when there are too many vehicles on the roads, reducing the chances to see animals significantly. The weather can be pretty cool during the cold season around November to February, so a sweater is a must!
Our tours are operated all year round.
Important note
Please confirm with us before booking a hotel in Khao Yai area as we don't offer pickup if your hotel is too far away. Or because some hotel owners don't like their guests to be picked up by tour operators.
Tour details in short:
Duration: 1.5 day(s)
Type: Private tour
Price: 2,400 - 8,800 Baht per person
Group size: 1 or more people
Grade: Easy to moderate
Transport: Safari vehicle
Start: 3:30 pm (day 1)
End: 5 - 6 pm (day 2)
What to bring:
Long trousers
Rain clothing
Sweater or light jacket
Hiking or sport shoes
Towel
Swimming clothing
Flashlight
Insect repellent
Sunblock lotion
How much?
You'll be accompanied by a private guide and no other people will join you; the best way to explore nature! Our tours are all-inclusive except for the accommodation.
Pax
Rate per person
1
8,800

THB

2
4,700

THB

3
3,800

THB

4
3,200

THB

5
2,900

THB

6
2,700

THB

7
2,500

THB

8 and up
2,400

THB
Tour rates include:
Entrance fees
English speaking guide
Transportation from/to hotel or other meeting point
Lunch (day 2)
Snacks & fruit
Drinking water
Leech protection socks
Reviews from our guests
By: Vegard Straume | posted Fri 13 Jan, 2023
Excellent guide and a very helpfull driver. Truly passionate about their work, and they did everything in their power to make our trip memorable by helping us spotting animals, provide knowledge and taking us to lovely places. Can recomend!
By: Staci Mayer | posted Sat 24 Dec, 2022
Great experience. Our guide (Bpoo) was experienced, kind, personable - and spoke excellent English. She is obviously passionate and excellent at her job. Fantastic animal identification skills. Would highly recommend.
By: Jane Bailey | posted Tue 9 Aug, 2022
Khao Yai National Park. 10 out of ten review. Jai and his wife took us to a spring to swim then to the amazing bat exodus. We were in the perfect spot. Day 2 Tata took us on an amazing tour. He spotted hornbills, pigtail macaques, gibbons, a fishing owl, sambar deer and a pit viper amongst other things. Lovely lunch. Really perfect day. Thank you. We had a great time.
By: Enric Riera Romà | posted Mon 25 Jul, 2022
It was amazing, Jay and Intila were excellent guides for us. They both are photography lovers and we learn a lot of things. Thank you for all.
By: Martina and Sophie B. | posted Thu 14 Jul, 2022
We really liked the tour and our guide! Lots of great Impressionen, that werden will remember for a very long time! Thank you!!!
By: Craig Carson | posted Fri 22 Apr, 2022
Lek was a really knowledgeable and friendly guide. The scenery was fantastic and we had a brilliant day!
By: CHARMIAN GRADWELL | posted Sun 10 Oct, 2021
Amazing two days in Nature. We really had a great timer. Our guides Jay and Indira were so alert to everything around us that we saw a wonderful array of creatures; mainly due to their astonishing ability to see the invisible. It is a real jungle Paradise.
Our guides were also very attentive to Covid protocols which was wonderfully reassuring at this moment in history and having just come out of many weeks in lockdown.
We were also served a delicious lunch. The highlights for me were the bats, incredible, shy intelligent and beautiful creatures and also the gibbons swinging through the trees. I would highly recommend a tour with Jay and hope to be back someday to do it all over again.
By: Sabyasachi Ghosh | posted Wed 1 Jan, 2020
Satisfied with guide and her service
By: Ralf Gyselings | posted Wed 28 Aug, 2019
We booked a 1,5 day tour in Khao Yai. The first half day we went to the millions of bats flying out, which was amazing. Just before this our guide took us also into a cave upon our request, which we appreciated and was also wonderful. Maybe a minor point was that we didn't get very much spontanous explanations from the guide. The second day we went into national park and into the jungle with another guide, Tata. Tata was absolutely outstanding. He was a perfect guide who could show us the most extraordinary animals and birds, and learned us a lot about them. His knowledge of the area, the animals and the way he could even atract birds to let us observe them was really impresive. He was also a very nice and kind person, also for our 5 year old son. It was an unforgettable day.
By: Adam Drewry | posted Mon 11 Feb, 2019
We had an excellent trip and would highly recommend it! Bon, our guide, was fantastic - spoke excellent English, was very accommodating, friendly and knowledgable. We were incredibly lucky and saw every animal that we wanted to see, including a male elephant up close. The park facilities were also excellent. The park was clean and well taken care of, which was good to see. Keep up the good work! Thank you.