Private Tour

|

Erawan Falls, cave & historical Sites | day tour

Kanchanaburi Province in west Thailand is home to several natural and historical sites popular among both local and foreign tourists. Erawan National Park in the province, with its famous falls, is no doubt one of the most iconic attractions in Thailand but it is also one of the most beautiful falls in entire Asia.
What?
This one day tour includes a visit to popular Erawan Falls in Erawan National Park, Phra That Cave a bit north from the falls, The Bridge over the River Kwai in central Kanchanaburi and Prasat Muang Sing Historical Park south from the city which is famous for its ancient Khmer style temples.
Itinerary
Our guide will meet you at 8 am from your hotel in Kanchanaburi City to embark the tour with a spacious and comfortable a/c car.
The first stop will be Erawan Falls. Once arriving there, we will spend 3 hours walking up to all 7 tiers of Erawan Falls. If you are faint hearted we will only walk to the easily accessible first few lower tiers, you will decide how far we should go. It is possible to swim in blue/green waters which are full of fish. Good to bring with you hiking shoes, swimwear and towel.
After having lunch at local restaurants near the visitor center we will drive you to Phra That Cave located 12 km North West from the falls. The cave is spacious with many beautiful stalactites and stalagmites, to be explored for an hour.
Our next stop will be Prasat Muang Sing Historical Park which is the most important historical site in Kwai Noi basin. The park is home to a number of e Bayon-style temples as seen in Angkor Wat in Cambodia. The temples date back to the 13th and 14th centuries.
Around 5:30 pm we will arrive back at Kanchanaburi City to walk over The Bridge over the River Kwai. The bridge is named after the film from 1957 based on the novel written by the French writer Pierre Boulle.
Around 6 pm you will be taken back to your hotel.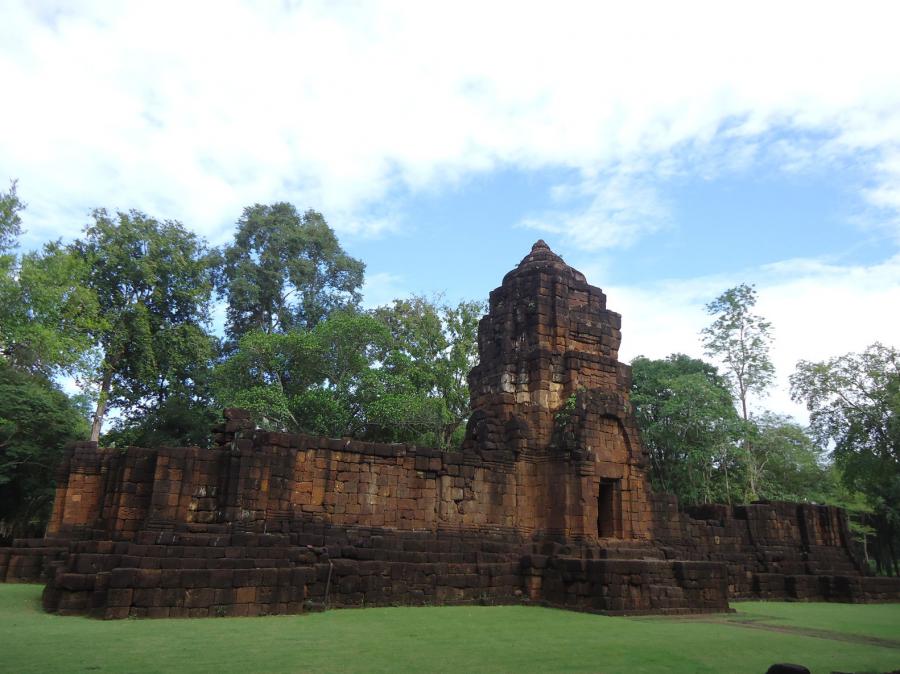 Where & When?
Our guide will meet you at 8 am at your hotel's lobby in Kanchanaburi City where the tour will start from.
During the dry/hot seasons the water flow is less in Erawan Falls, but it will be beautiful as the water gets crystal clear and more ideal for swimming.
This full day tour can be booked all year-round.
Tour details in short:
Duration: 1 day
Type: Private tour
Price: 1,550 Baht and up per person (depending on group size)
Group size: 1 or more people
Grade: Easy to moderate
Transport: SUV or minivan with a/c
Start: 8 am
End: 6 pm
What to bring:
Hiking or sport shoes
Towel
Swimming clothing
Insect repellent
How much?
This tour is a private tour. You'll be accompanied by an English speaking licensed guide and no other people will join you; the best way to explore the falls and the historic sites. The listed prices below include private luxury transport, entrance fees, refreshments and lunch.
A day trip to the falls including visiting the historic sites may not be possible due to the long driving time from/back to Bangkok. If you need a tailored trip from Bangkok, please let us know and we can inform you of the feasibility with a price.
The listed price below doesn't include pickup from the Sai Yok area where some popular raft houses are located. For an additional fee, it is possible to embark the tour from the Sai Yok area.
Pax
Rate per person
1
5,100

THB

2
3,000

THB

3
2,300

THB

4
2,050

THB

5
1,850

THB

6
1,700

THB

7
1,600

THB

8
1,550

THB

9
1,500

THB
Tour rates include:
Private good English speaking tour guide
Private transport from/to your hotel in Kanchanaburi City
All entrance fees (400 Baht per person)
Visit Erawan Falls
Visit Phra That Cave
Visit Prasat Muang Singh Historical Park
Visit The Bridge Over the River Kwai
Lunch
Coffee/tea break & snacks
Drinking water
Soft drinks
Reviews from our guests
By: Alex from the UK | posted Fri 20 Jan, 2023
Our guide Cat was brilliant, she took us on a brilliant day trip and was super knowledgeable. She helped me order vegan food, and gave us lots of information on the local area. We had a brilliant time, the cave and the waterfalls are a must see. Thank you to the whole team for a brilliant addition to our holiday xx
By: Magdalena URSACHI | posted Sun 27 Nov, 2022
Fuimos con el guía Jackie primero a la cueva,que es espectacular, una cueva gigante, para llegar allí hay que hacer un poco de senderismo por la montaña, por escalones, pero es llevadera
Después fuimos a las cataratas, son impresionantes, esta vez el camino se hace un poco mas duro, ya que hay muchos escalones pero vale la pena, ya que te puedes bañar y refrescar, paramos a comer en un bufet que estaba riquísimo y mucha cantidad. A lo ultimo fuimos a un museo historico que también es precioso, mucha tranquilidad y naturaleza. Vale la pena toda la excursión.
By: Haris Mushtaq | posted Fri 4 Nov, 2022
Timely pickup and jolly and friendly guide and driver. Erwan park, falls and the cave are amazing by themselves but having the comfort of a private ride made it all better. The guide told us that we could spend as much time as wanted and modify the itenerary as needed. He also accepted our request not to accompany us on the falls so that we could take our time and space since the trail is very well marked. Park fee and lunch were paid by the service provider as promised.
By: Jason H. | posted Tue 30 Aug, 2022
I had the most incredible tour of Kanchanaburi. First, the tour was organized on very short notice. The staff at Thai National Parks was very professional.
My tour guide, Pat, was exceptional. She is very conscious of your personal safety on the slippery rocks and caves. She is safety first! Pat is very enthusiastic about Thai language, history and culture. She is very proud of the natural beauty of Thailand. She was an excellent guide. Our driver, Tom, was professional and skilled. A perfect day in Kanchanaburi.
I recommend this tour.
By: Lars Maarleveld | posted Wed 17 Aug, 2022
Jackie was an amazing tour guide who told us everything about the sights we went to see. He really made this a special day for us to remember. He's also a phenomenal photographer and he helped us out when we went to the Erawan waterfalls :). If you're going to do a tour here I highly recommend you ask for Jackie to be your guide!
By: Suzanne Geneste de Besme | posted Mon 4 Jul, 2022
Best tour ever! Tour guide was incredibly knowledgeable, flexible, and very funny!
By: Valerie MATHIEU | posted Thu 24 Mar, 2022
Very knowledgeable guide, friendly, English fluent, happy to share his knowledge and answer our question. Was flexible to changes. Great time :)
By: Allyson Willis | posted Sat 14 Dec, 2019
We loved our day tour with Jackie! He's an amazing guide with loads of energy and information. Thank you!
By: Rachel | posted Sat 26 Jan, 2019
We (my mom - almost 70 - and I) took three trips while in Thailand that were arranged through Thai National Parks. All were beautiful and well-organized. Our guides were great and we really enjoyed the days.
By: Bianca | posted Tue 21 Nov, 2017
Our Day Trip to Erawan National Park included the waterfall hike, a tour of Mueang Sung National Park, and a walk over Bridge over the River Kwai. It originally included a tour of a cave but we took extra time exploring the waterfalls so we decided to skip the cave to have more time at the other locations.
Our pick up was timely and our guide Mod was extremely friendly!
Hiking up Erawan Waterfalls was a beautiful experience, Mod let us take our time, to enjoy the waterfalls, take as many pictures as we wanted, provided water, and gave us a great estimate of how long it would take us to get to the top. We had lunch together at a local restaurant including pad thai, chicken, rice, fresh fruit and drinks (if you want more, you can ask for more, free of charge). The food was not spicy.
We opted out of the underground cave because it was steeper than the waterfalls, and we were pretty tired. We also wanted to have plenty of time for the other activities. (Be aware - your shoes will get wet! It rained the morning we went so there was a lot of water. After tier 5, you have to walk through some of the water)
The Historical park was rather small, but worth a visit if you enjoy learning the history behind ruins.
The walk over the bridge was also nice, we walked to a Chinese temple on the other side and had some time to explore that as well.
My highlight of the trip was definitely the waterfall hike and getting to talk to Mod about Thai culture, life and tips for the rest of my trip. Would definitely do this agian!! But maybe for another park.